Warning: This is not a live action replica of the 1991 classic. I know, I was disappointed at first as well, but new witty dialogue only added lines to my collection of Disney quotes I spew out in everyday conversation.
Now that you've let go of your dream of Emma Watson calling Luke Evans "positively primeval", I can confidently say that although this isn't exactly like the original, there's no question why it earned $170 million opening weekend, setting the record for highest earnings in an opening weekend for a PG movie.
One major change from the original was the added plot points, which fill in some gaps left and give the audience more of an insight into things such as the past of Beast, the servants' past regrets, and what happened to Belle's mother. It helps to give the viewer a more rounded perspective when thinking why Beast and the servants act they way that they do.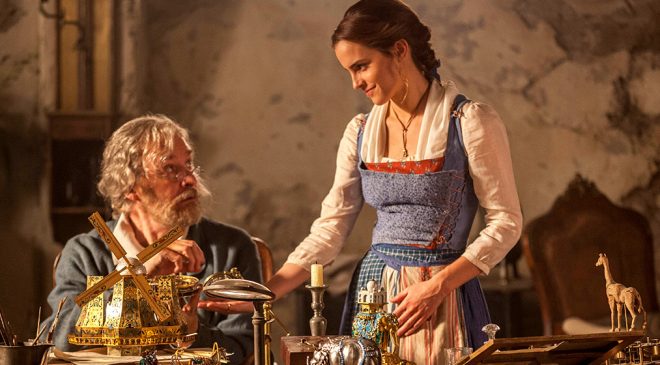 Alan Menken,  who wrote the music for the original as well as other Disney classics, such as Tangled and The Little Mermaid, wrote three new songs for the live action movie to explore those added plot points and add more music to the scenes we already know and love.
One new song is "How Does a Moment Last Forever," which is sing twice in the movie. Kevin Kline, who plays Belle's father Maurice, as he is building a music box, and laser by Emma Watson, as she visits the home in Paris where she was born and discovers what happened to her mother. The next is "Days in the Sun" which is sung by the young prince (Beast), the servants, and Belle. The majority of the song is about the servants reflecting on their lives as humans and holding onto those memories when times get hard in the castle.  The last new song is "Evermore" which is sung by Beast, Dan Stevens, after he releases Belle following the famous dance scene.
Emma Watson charms audiences as the beloved heroine Belle, living up to the high standard set by the Broadway star Paige O'Hara, who voiced Belle in the original. Although her singing may not have matched O'Hara's powerhouse vocals, Watson presented a new, more mature side of Belle, while still keeping Belle's spunky stubbornness, determination and her famous heroism.  
In addition to Watson, Luke Evans channel the arrogant Gaston pretty close to perfectly, making him possibly even more vain and controlling than the animated villain. The film also starred Dan Stevens as Beast, Josh Gad as Lefou, Ewan McGregor as Lumière, Ian McKellen as Cogsworth, Emma Thompson as Mrs. Potts, Audra McDonald as Madame Garderobe, Stanley Tucci as Maestro Cadenza and Gugu Mbatha-Raw as Plumette.
Although this movie wasn't exactly like my favorite childhood (and current) film, "Beauty and the Beast" did not disappoint with it's cinematic magic and nostalgia that takes you back to childhood.
Photos: Disney