Green For Green Club Updates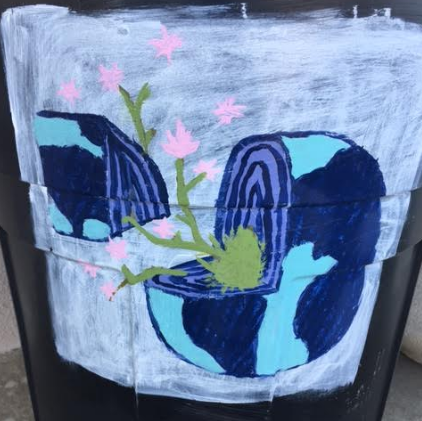 The composting system at Thousand Oaks High School has been in place since the beginning of the year. Green for Green, the club responsible for the implementation of the composting system, started off with 3 composting bins: one in the quad, one near the office and one in front of the cafeteria.
"We found that people were not using them for two reasons: they did not know about or understand the system and it was inconvenient with only three bins. We thought that getting more bins would make composting easier and therefore more successful at school," said club president Ella Fortney.
Last month, the club decided to obtain more composting bins to implement throughout the school. Now, there are compost bins outside of classrooms in each hall. In order to distinguish the composting bins from regular trash cans, the club held an art contest where contestants submitted their artwork, and the art chosen would be painted onto the bins. Now, the bins are decorated with unique artwork along with large letters spelling out "COMPOSTING". There are still 5 bins left for any artists wanting to have their artwork displaced on the bins.
Above: Compost art by student Rylee Hooper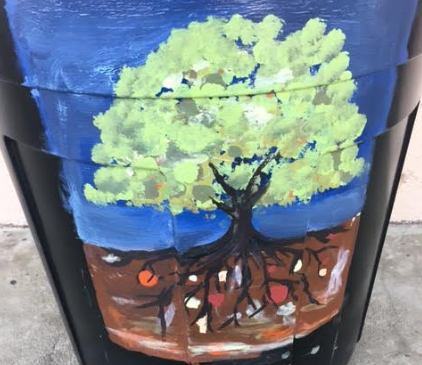 Above: Compost art by student Sofia Lin
A bake sale was also held at Future Lancer Night, this Wednesday from 6pm-8pm. The money raised will go towards the club's bee plant project. A big part of the bees dying at an alarming rate, is the loss of habitat loss from mono culture.  
"The honey bees are on the endanger of being extinct, and we want to plant plants around the campus to promote bee life." said club member, Bronte Brazier.
Upcoming events for Semester 2 will include a seed bomb workshop, writing letters to politicians about environmental issues, and also going to environmental protests. For the seed bombing workshop, the seed bombs filled with wildflower seeds, will be distributed on a group hike.
Club meetings are every Wednesday in room E6, and environmental discussions will also take place each week. For more information on the club and weekly environmental posts, visit the club's website: http://tohsgreen4green.weebly.com/
Cover photo: Compost art by club president, Ella Fortney