The Shameful Vegetarian
By: Gavin P. Norton
While it should go without saying that humans were born and bred to consume monumental heaps of meat, fat and dairy products, some continue to pester the general populous by claiming meat just is not or was not made for them. Those that argue the best way to go about your daily diet is to omit all animal meats are called vegetarians; these creatures call themselves humans, but thrive off leaching the life out of any other "fellow" homeosapian who tries to enjoy a simple sausage or hamburger at a barbecue. So, saying that vegetarians add nothing to society, and their pickiness is simply off-putting because, as opposed to being vegan, there are no benefits to becoming vegetarian is justified because of the numerous amount of entirely reliable sources that are attributed to such a claim.
A USDA Prime example of the flawed mindset of a veggie-vore comes from vegetarian and degree-acclaimed "doctor" John McArdle who makes the case vegetarianism is a choice. So, here we have a vegetarian, one of like two or three that decided to become a doctor and receive a real education instead of listening to the plants, trees, wind or other general foliage or natural force,  who, himself, clearly address how humans are historically "opportunistic feeders" who survive by "eating whatever is edible." Sorry, Doc, but even as a vegetarian, your doctorate should allow you to see how meat (like, oh, I don't know, meat from a cow, pig, dog, chicken or lobster) is actually edible! Because you then go on to say how humans were originally designed with an appendix to make such meats not just palatable, but edible. Not all vegetarians are educated hypocrites, though. Some vegetarians are hypocritical and ignorant. Like, for example, the buffoons at Harvard Health who propose vegetarianism is "an effective way to reduce chronic illnesses." Yes, you read that right; these guys in the women's health department claim eating only vegetables can reduce your chance for diseases like cancer because they say it isn't difficult to find alternative sources of protein and essential oils. Well, from experience I can say that nothing is a more satisfying 14 ounces of protein than a fat, juicy, medium rare ribeye, and any alternative of the same size probably has quite a bit less protein. So, I do not have much experience as a food scientist, so I am unfit to give an exact number, but for every ounce of protein a steak contains, one would likely have to go through at least 19 pounds of tofu to get half as much protein. And don't get me started on fat! There's no way tofu has any fat in it. Reflect for a minute; reflect on how much fat can possible be in bean mush. Like, one? Maybe one and a half? If you're extremely generous two? Therefore, using advanced statistical reasoning, that means for all the nutritional value of one steak, you would have to eat 129 steak-sized blocks of tofu. And that's another thing; who wants to eat anything that can be described as a block?
Unless, of course it's cheese.
But vegetarians are okay with cheese. In fact, vegetarians are so okay with cheese that many meat-eating health experts recommend it in every vegetarian diet. The staff at Mayo Clinic (whose silly name totally doesn't draw away from their validity as a source) claims both Calcium and Vitamin D are "vital and absolutely necessary" for survival and a generally pleasant life. Thus, if we listen to Mayo further, we find they recommend products like milk or like cheese because they are both "highest in calcium … and most easily accessible." It seems, then, if you decide not to eat meat, you must rely on leaves, tofu and cheese. But, wait, where does cheese come from? Ground-breaking modern research shows cheese is derived from milk and milk is derived from udders and udders are attached to cows and cows must be molested on their udders to produce milk to produce cheese to feed vegetarians because vegetarians don't get enough calcium or vitamin D, but, if you're a vegetarian then you must know how cows have rights, too and cows certainly have rights to their own milk and their own calcium and their own vitamin D, so if you're a vegetarian, you're still just stealing from and abusing cows–just in a way that you justify by being more humane. It's shameful, really.
The only natural conclusion, then, for those who like animals and dislike meat equally, is to become a vegan. Unlike the ignorant, hypocritic vegetarians, vegans rely on common sense when it comes to being obnoxious at a restaurant.
Vegans, unlike vegetarians, choose to avoid eating any animal products, and not just certain ones that may or may not involve the cruel slaughtering of innocent animals. Being vegan makes one happy with their inner conscious because it makes one aware of their peaceful side. According to the rational and unbiased organisation, The Vegan Society, veganism is better for the environment, body and soul alike. Plus they're not hypocrites.
So, if you're going to go away from meat, go all the way; cut out the middleman, don't just be picky. Either stay an omnivore, or become a vegan.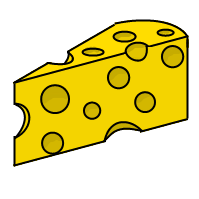 Photo // Wikicommons
A Commentary from Website Editor, Cate Valinote
Usually, my writing rarely makes its way onto The Lancer Website. As the website editor, my responsibilities include guiding the direction of stories, proofreading, and enforcing deadlines. However, a vegan who just so happens to be in a position of power, I had to respond.
Gavin P. Norton, a skillful opinion writer, argued that the consumer should choose one lifestyle or the other: veganism or carnism. There was one subgroup, however, that he did not have respect for— vegetarians. I admired his ability to respect vegans for taking on the challenge of going against the mainstream, attempting to reduce their impact on animals and the environment. Unlike vegetarians, vegans do not endorse impregnating cows and taking their calfs so humans can suckle way long after babyhood.
However, vegetarians deserve some recognition for their efforts. Yes, they may still be living with cheese addiction, but at least they are on the path toward a lifestyle that can reduce animal, environmental, and human suffering, and many in the animal rights and environmentalist communities forget that.
A vegan bullying a vegetarian is like a cross country athlete ridiculing a chubby kid for going for a jog. There is no such thing as a "professional" when it comes to activism. The truth is, many vegans and vegetarians alike don't reject meat simply because they don't like it. Most of us were brought up as meat eaters, and exchanging some of our once favorite foods for their vegetarian and vegan counterparts takes time.
Occasionally I smell my mom cooking a roast chicken, or a turkey burger, or some other carcass, and I admit, my mouth waters. But then I open the fridge, pull out my veggie burger, or (dare I say it) a block of tofu, and forget about my isolation from mainstream society's inability to comprehend life without killing animals for food. Above all, I remind myself that the purpose of lifestyle choice is to better the world, not discourage the vegetarians from their efforts to make a change.
Cover Photo // Public Domain Pictures