TOHS 2021 Golden Globes
The Lancer surveyed students on their picks for the 2021 Golden Globes.
Despite being stuck indoors, many students said they hadn't watched many of the films nominated for the Golden Globes which took place last Sunday. Those who did watch the nominated films, however, seem to have strong opinions.
"Better Call Saul was God tier, Bob Odenkirk better win," said freshman Hayden Supple.
The students also expressed opinions regarding the nominees.
"If a movie is about Black people and it's an important subject you always have to check if the people behind the movie are white, and most of the time, they are. [So] then you kind of have to take it with a grain of salt.," sophomore Gabrielle Lopez said, "as long as the award shows stay how they are, so will Hollywood."
Like previous years, the controversy surrounds the majority of nominees are white or movies centered around a white cast. Additionally, James Corden, who starred in The Prom, earned a nomination for what many deemed a controversial performance as Corden is straight- which multiple students were unaware of- and played a gay character.
"I'm gonna be completely honest, this whole time I assumed James Corden was gay, my bad, but once I was told he is, in fact, a straight man with a wife and kids I kinda did a double-take because like, wow, that's a walking stereotype right there played by a heterosexual man," sophomore Grace Machell said.
Other students commented on the fact that the character could have been played by an LGBT+ actor instead.
"I personally thought prom was a good movie with a good plot and had good intentions, [but James Corden] was an offensive portrayal of a stereotypical gay man…I think they should have gotten an LGBT+ actor to play that part," said freshman Emily Page.
Another point of contention is Sia's movie "Music", which is criticized for casting a neurotypical actor as the autistic lead, promoting the use of restraints- dangerous, sometimes deadly actions which the film is criticized for describing as depicting caricatures of autistic behaviors, and even accusations of blackface. Popular autism awareness and information Twitter account, The Autisticats, commented on how harmful the portrayal of autistic people is in this film. 
 "[The depiction of autistic people is] unsettling, and insincere…exaggerated mannerisms non-autistic people often employ when bullying autistic & developmentally disabled people for the ways we move," the Twitter user said. 
"It's just another example of how the film industry and award shows will jump to praise any film with 'representation,' even if it outright hurts an entire community," Lopez said. 
In some categories, students seemed split while in others choices were somewhat unanimous, such as "Soul" for Best Score Motion Picture or "The Queen's Gambit" for Best Television Motion Picture.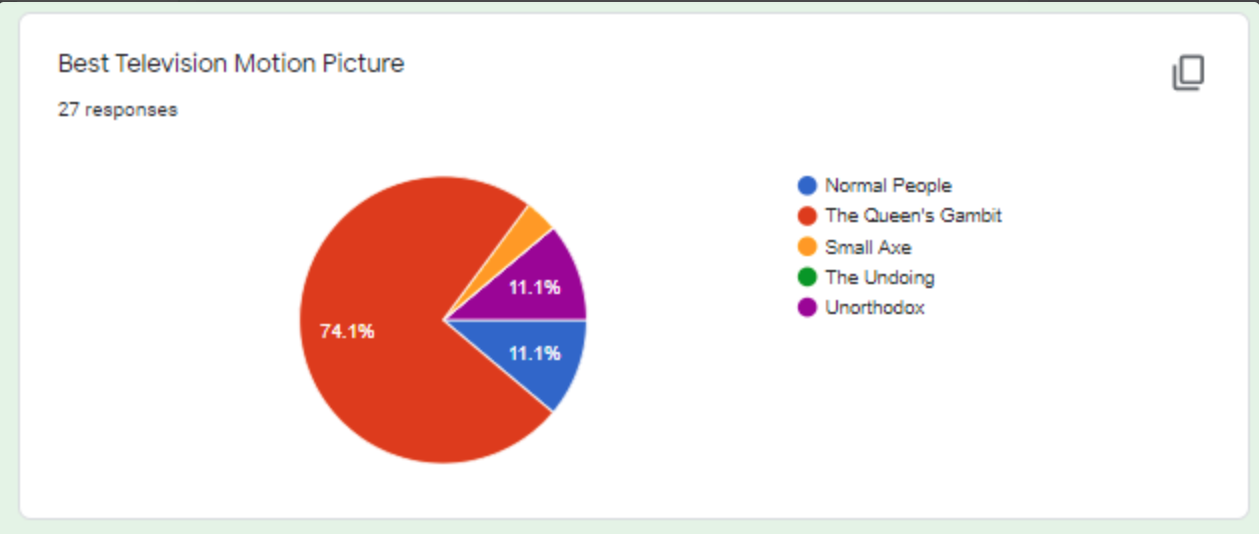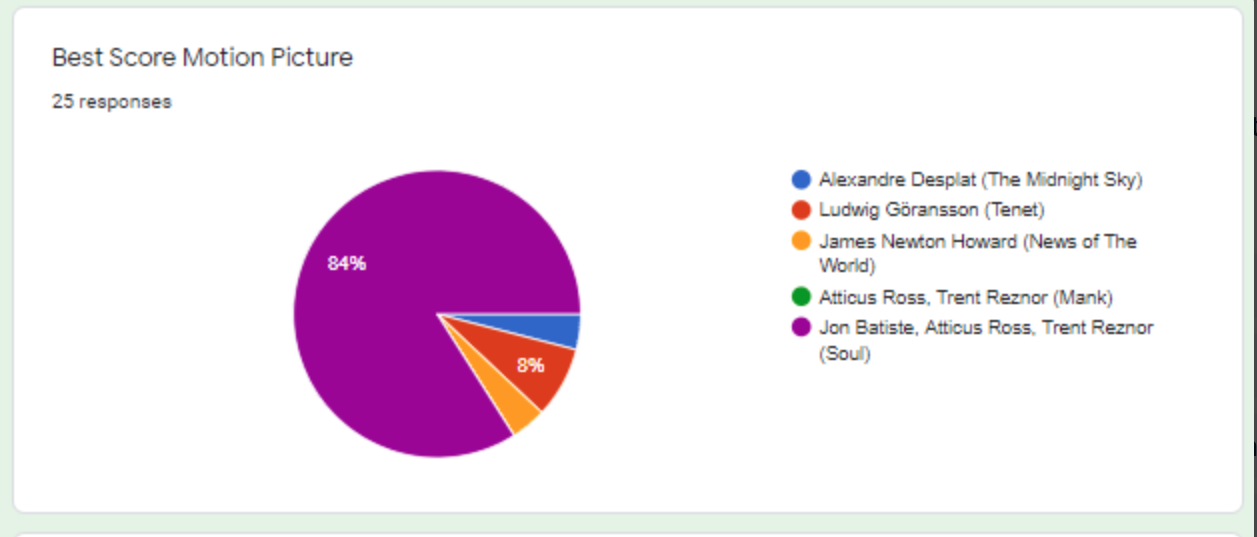 The Golden Globes will be airing live on NBC Sunday, Feb. 28, 2021, and can also be streamed on the official Golden Globes website.