Pencils of Promise
Although Thousand Oaks High School's Pencils of Promise Club has only been an official club for 3 years, PoP has hosted an array of fundraisers throughout the three years. The organization, Pencils of Promise, was founded in 2008 by Adam Braun. His mission began while traveling in college, when he met a young boy begging on the streets in India. When Braun had asked the child what he would want if he could have anything in the world, the child's answer was simply, "a pencil". After this incident, Braun deposited 25 dollars in hopes of building a school one day, and thus Pencils of Promise was born.
Pencils of Promise at Thousand Oaks High School, is a student run club that believes that everyone should be able to have access to a quality education. The club works with different organizations, such as Many Mansions and School on Wheels. School on Wheels is a non profit that provides academic tutoring to children who are living in shelters, motels, cars, group foster homes and on the streets in Southern California.
"We've raised money by holding different events, like Raise Your Hand for Education, bake sales, and ice skating nights where the money raised has gone to supporting a school in Ghana," said club founder and president, Junior Ally Malilay.
Last year, the club raised over 100 dollars through its Raise Your Hand for Education fundraising event. The event allowed students and teachers to pay 50 cents for one hand print on a large pencil crafted from boxes. Each hand print signifies the student's efforts in providing an education to all, regardless of where they may live or where they may come from.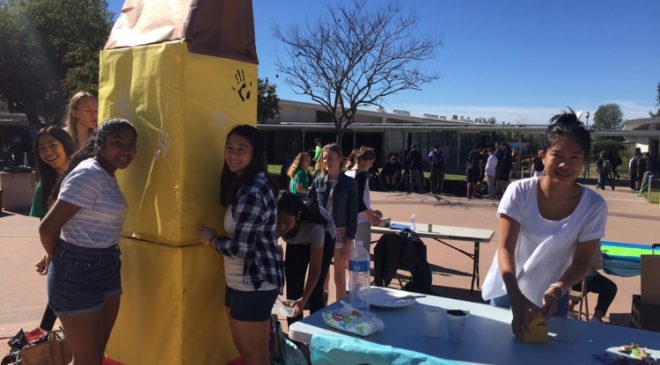 On March 4, this Saturday, the club will host its second annual Figure Skating fundraiser at the Iceoplex in Simi Valley from 7:15 pm to 9:00 pm. Thirty percent of all proceeds will be donated to Many Mansions. The fundraiser will provide children of Many Mansions all of the school supplies they may need. For more information on the club's upcoming events and updates, visit their website: tohspencilsofpromise.weebly.com