What was once a childhood dream has turned into something bigger for junior Patrick Fogel. With a pilot as a dad, he has always been surrounded by aviation and lately has started working towards getting his pilot's licence.
In an effort to further his knowledge and experience with planes, Fogel started volunteering at the Commemorative Air Force Museum in Camarillo three years ago. He spends countless hours in the museum surrounded by old planes. While there, his main task is to help maintain the planes and host events at the facility to raise money.
"One of the good things is that we fly World War II aircraft. I want to fly those aircraft because it's [a mix of] history and flying. Since we keep the planes in flying condition I'll do work to maintain the aircraft. Because that is expensive we have events, like parties, so I usually help run those," Fogel said.
His long journey towards getting his pilot's licence started this past summer when he started lessons with a flying instructor. The Camarillo airport is Fogel's main training center where he works with his trainer. Each weekend is an opportunity for him to improve his skills and work towards getting his license.
Story continues below advertisement
"I'm currently doing my flight training with Camarillo Flight Instruction.They give you an instructor and do a lot of the flying with them," Fogel said.
The only obstacle in the way of getting his license is his age, since it is mandatory to be at least 17 to get a private pilot certificate. In the meantime Fogel is doing basic training around the airport and flying to local places like Santa Barbara.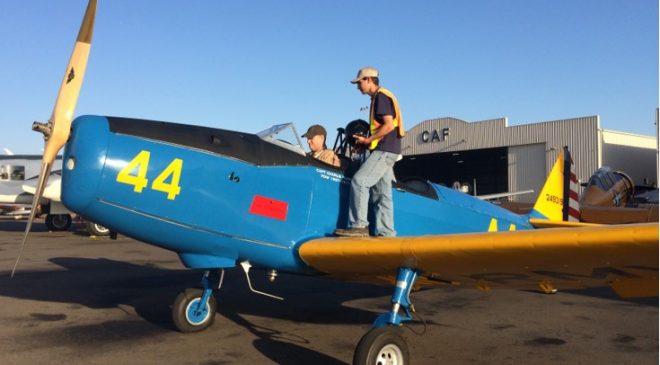 "The minimum amount of flight time you need is forty hours and then there's a written test you need to do for basic 
knowledge. Then you need a certain medical [report] and there are different things you need to do, like go on a cross country flight. Once you've got everything 
done you take a check ride where you go up with an instructor and they will have you do maneuvers, see how well you can [fly]."
Fogel describes it as a "rollercoaster but you have control of where you're going." It isn't hard to imagine why he continues to strive to be the best pilot he can be, as he describes the feeling of flying as the main reason for his love for the pastime.
Although the act of flying may look simple from an outward perspective, Fogel reveals the truth about the practice and focus needed to keep the plane up.
"Flying is a lot more user intensive than driving. Because there is so much more to manage. You manage your fuel air mixture, a lot of different instruments, your airspeed indicator and you talk on the radios. The hardest part is having all these little things to manage and you have to do it all at once."
For the future, Fogel hopes to use his flight knowledge to be a pilot for the Navy. He currently flies a Cessna 172 but wishes to fly a F/A-18 later on in his piloting career.
"You request where you want to go, at which  point they will send you to basic flight, training, which is for the Navy where I want to go," Fogel said. "Once you're done with basic flight you put in a request for what you want to fly and then you will get sent on to actual flight training for the specific aircraft."