Book Club's Monthly Picks
For Book Club's book of the month, students are reading A Court of Thorns and Roses by author Sarah J. Maas. The theme for March is magic/fantasy, and A Court of Thorns and Roses is the perfect book for the theme.
Sarah J. Maas is the New York Times and USA Today bestselling author of the Throne of Glass series. She began writing the Throne of Glass series at just sixteen years old. After finishing the book, she posted her writing on FictionPress.com but decided to take it down after trying to publish her novel. There are currently 6 books in the series, with the sixth book going on sale May 2nd.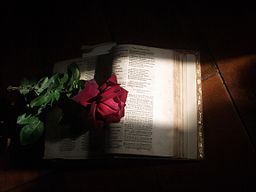 A Court of Thrones starts off when nineteen-year-old huntress Feyre kills a wolf in the woods, a beast-like creature arrives to demand retribution. When she is dragged to a treacherous magical land she only knows about from the legends of her ancestors, Feyre discovers that her captor is not an animal, but Tamlin— one of the lethal, immortal faeries who once ruled their world.
As she dwells on his estate, her feelings for Tamlin transform from hostility into a fiery passion that burns through every lie and warning she's been told about the beautiful, dangerous world of the Fae. But an ancient, wicked shadow grows over the faerie lands, and Feyre must find a way to stop it, or risk Tamlin and his world.
"Sarah does a really good job of creating a world that allows the reader to completely immerse in the story. Also, the character development is really prominent. You never really know, or are sure about how you feel about a certain character. You're never sure about what their intentions may be. And that's what makes the series so good because the characters keep readers on edge," said Book club president Bronte Brazier.
Although the book is 700 pages, longer than most, each chapter is essential in plot development and the length adds to the story.
Book club meets every other week in Mrs. Wolhstattar's class. Each month, the group chooses a theme and votes on which book to read based on the theme.