AP Research Students at The Science Fair
The Ventura County Science Fair, which took place March 24, was a momentous day for AP Research kids at Thousand Oaks High School. 28 students placed with nearly 11 students moving on to State Science fair which will take on April 24.
Elise Okayama, a Junior in AP Research Humanities, is moving onto the state competition. Her study, which extrapolates which skills will make graduating college students more valuable to businesses, won first place in the Human Behavioral category.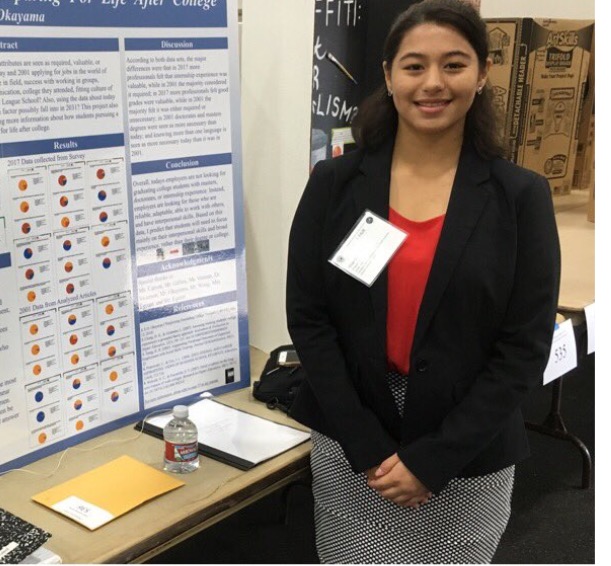 The overall goal of the study was to give students a clear view of what attributes companies look for, and how these attributes will increase their chances in finding a good job after graduating from college.
"For State Science Fair, I am excited to see what other people my age are interested in and to meet professions who can give me advice on my project and life," said Okayama.
For state, Okayama wants to focus on advancing her project rather than changing it. She sent out another survey in order to evaluate the trends seen throughout participants.  
Okayama first got the idea for her project at the start of Junior year. Questions of what she wanted to do, and where she wanted to go, continued to increase and she quickly found herself trying to answer the questions before it was too late.
"I found a lot of information about getting into college but not a lot on the skills I would need after graduation," said Okayama. "I would love for my findings to help students be more at ease about trying to get a full time job after college and feel more confident because they can prepare for their future."
The state science fair is today, April 24th at the California Science Center. This will be the 66th annual California Science State Fair and there will be 927 participants from nearly 400 schools throughout the state. There will be over 814 projects, all aiming for awards that total to almost $60,000.