Senior quarterback Dylan Cain started his first game of the season last night as the Lancers put up an impressive fight against the Tritons, giving the Green Hole its most exciting game of the season.
The final score read 30-22 as the Pacifica Tritons narrowly took the victory. Cain ran for one touchdown last night and senior running back and defensive lineman Garrett Juels scored on both sides of the ball with both a running touchdown and a 67-yard fumble return touchdown.
Cain took over for the previous quarterback, senior Hudson Volk, after he left the program last week. A last minute roster change left Cain starting the game in the backfield for the first game this season, and he showed his worth with an impressive performance against a strong, undefeated Tritons team.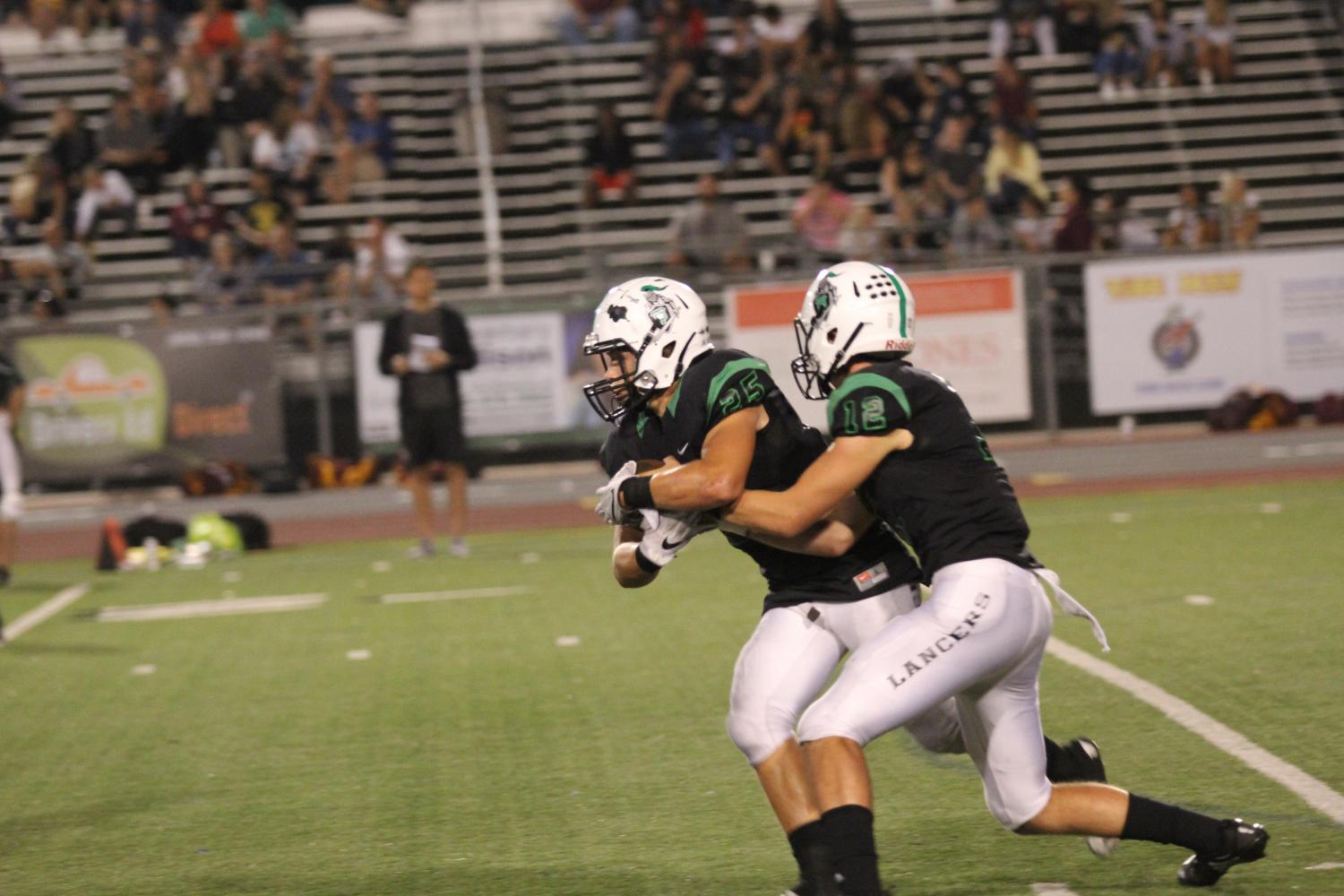 "Our biggest strength is probably our mental toughness and unity despite having a lot of guys leave the team," Cain said.
Story continues below advertisement
This outlook showed up last night as Cain delivered a convincing game. The offense looked more complete and under control last night then they have all season with Cain under center.
"Dylan is a different type of QB than the one we had before. Dylan's athleticism helps the offense be productive," head coach Chris Casillas said. "He still has a lot to improve on but we are headed in the right direction."
One thing that didn't go unnoticed last night was Trevor Howarth sporting the green helmet.
"The Green helmet is awarded to the elite defensive player—players who are difference makers. It is a long standing tradition from the late 70's," Casillas said.
The defense definitely made a difference last night, scoring a touchdown and holding an offensively strong Tritons team to 30 points.
It was a refreshing game for both the football program and the people watching to see that level of play from a team that could not seem to get anything going. The Lancers take on Moorpark next week as they try to close the season strong.
All Photos > Tanner Paterson > The Lancer