Vintage and Vinyl Revival
Sometimes it's tricky to keep track of what the hipsters are up to. With their born-in-the-wrong-era band tees and man buns, young people caring a little more than most about their "aesthetics" are notorious for changing the tide of the mainstream. The critics complain that these trends have already run their course, but hipsters value what this fast-paced culture often forgets: the treasures of the past.
Flashback to the 1940's, when the original hipsters were white teens following the underground jazz scene, stepping across racial boundaries in berets and pinstripe suits. Then there were the Beatniks, and the Brooklyn bohemians. No matter how many times this melting pot of styles and culture transformed, one thing was certain– the hipsters kept the alternative style and music scene alive.
Today, this subculture can be found in vintage jackets and second-hand jeans, sifting through records. With the growth in popularity of clothing resale curators like Buffalo Exchange, grandma sweaters seeking a new life in the Goodwill suddenly take on a trendy appeal. Even the ratty flannels and ripped boyfriend jeans in Urban Outfitters have adopted the worn-in vibe only naturally found in the thrift store.
As for the resurgence of vinyl, young collectors shop at hole-in-the-wall finds like Record Outlet on Thousand Oaks Blvd. According to Billboard, vinyl accounted for 6.5% of all album sales last year. With 13.1 million sold, 2016 marks the eleventh year that record sales have been on the rise. Even Barnes and Noble and some Whole Foods Market stores boast vinyl sections.
So why is it worth noticing picky shoppers accenting tasteful hard copies of their favorite albums with recycled clothing? Well, in an increasingly global economy, consumers turning their noses up at massed produced apparel fresh from the factories see thrift shopping as more than just an inspiration from Macklemore's 2013 hit single. Not only is shopping secondhand more affordable, but promotes sustainable living. Instead of viewing castoff materials as waste, ethical shoppers are willing to seek out used attire and tailor it to their style, even mending their finds if necessary. At many secondhand stores, like Zoe's No Fleas Market on Thousand Oaks Blvd, part of the proceeds go to charitable causes like animal rescue, clothing the homeless, or helping disabled veterans.
Sophomore Lauren Faciana wears clothes from thrift stores and flea markets as a way to embrace her creative style.
"The main thing I love about thrifting is the uniqueness of every piece," said Faciana, "I won't see another girl wearing the same shirt I am and that really boosts my confidence in my outfit."
Like Faciana, vinyl junkies also see their collections as collages of the past and present. In the music world, young fans appreciate one of the remaining tangible mediums in the increasingly digital world– the record. Like the thrifters refuse to waste clothes another's closet castaways, these collectors are not ready to send record players and vinyl to the dumpsters along with telegraphs and pagers just yet.
With the increasing demand for vinyl and used clothing in the vintage-centric community, more teens are taking to the dusty racks and shelves. Though Goodwill has responded with climbing prices, this shopping realm is still much more affordable compared to the apparel overflowing the shopping malls. Vinyl can be increasingly expensive too, but worth the splurge for the eclectic shopper.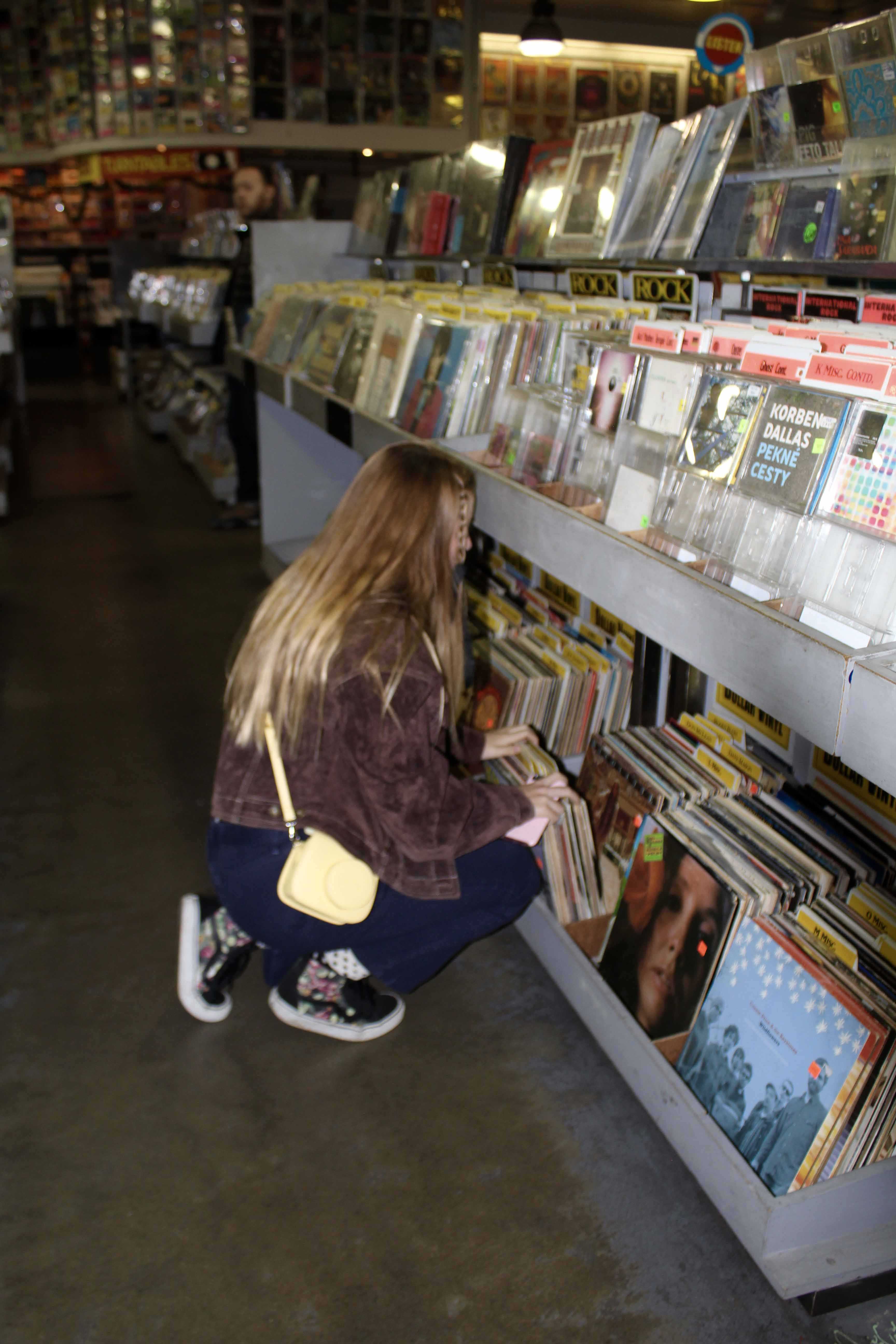 Whether a vintage or vinyl seeker opens their wallet voting for sustainable living or original style, their choices challenge the role of the conventional consumer. Somehow, they have managed to create a time capsule of music and mode. While the mainstream obsesses over the Kardashians or the newest iPhone, these hipsters preserve what is otherwise forgotten. Thanks to them, dusty David Bowie records and '90s jelly sandals are here to stay.