No golf course? No problem!
Golf team buys Foresight GC2 launch monitor becoming the only high school program in Southern California to have one.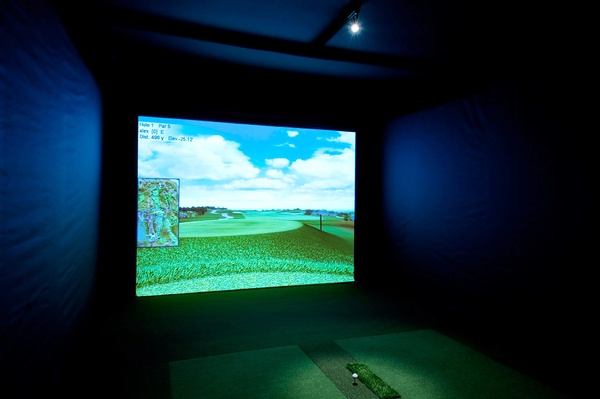 Early in summer 2020, the TOHS golf team purchased an indoor golf simulator that allows for practicing without having to drive to a nearby golf course.
Last fall, the team applied for the Social Services Endowment Fund (SFEF) Grant offered by the city of Thousand Oaks to help pay for the simulator. This grant is a matching grant, which means that any money the program raises, the city will match it. The golf team then earns double what they would have earned due to this grant.
Due to COVID-19, the city was forced to put giving grants on hold. However, the golf team intends to apply for the grant next year, if it is available.
Although the simulator was quite expensive, the benefits it provides to the golf team makes it well worth the price.
"It provides us data which will help improve our performance on the course," golf head coach, Jordan Daigneault said. "For example, we can get accurate measurements of how far every golfer hits each golf club, allowing them to better select which club to use in different situations on the golf course."
The simulator provides the unit of smash factor for each swing, which is the ball speed divided by the speed of the club.
"The higher the ratio, the more energy you're converting into distance," Quinn Fetch, junior on the varsity golf team, said. "Overall, the information presented to us will give us a deeper understanding of our limits as well as the aspects of the game we need to improve on."
The simulator also gives the team the ability to practice on campus. Before making this purchase, the golf team was the only TOHS sports team that could not practice on campus.
"Giving golfers a place to practice on campus will make practice more efficient from a time standpoint as we will not have to worry about getting to the course," Daigneault said. "We will also alleviate pressure on families to drive our underclassmen to the course every weekday."
The Foresight GC2 has the potential to make the sport of golf more accessible to students at Thousand Oaks High School with the flexibility it provides.
"It will be a lot easier than having to drive to the golf course," Ian Adams, junior on the junior varsity golf team, said. "I could just bring my clubs to school, or even just one club, and leave them in the room to hit at lunch or after school."
For now, the simulator is being stored in room H1 until permanent arrangements are made for it. "The plan is to eventually purchase additional equipment to create a full practice facility for golf on campus," Daigneault said.
Unfortunately, COVID-19 is limiting the amount to which this simulator can be used.
"Currently, we are only able to use the launch monitor at the driving range. I have an app on my phone that it syncs that will provide us with a lot of data about every shot," Daigneault said. "If and when we go back to campus, we will be able to use it while hooked up to a computer in full simulation mode, allowing us to play some of the most famous courses in the world!"