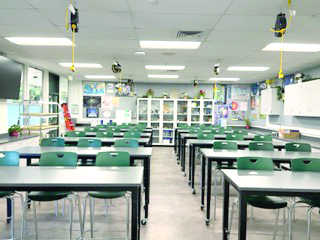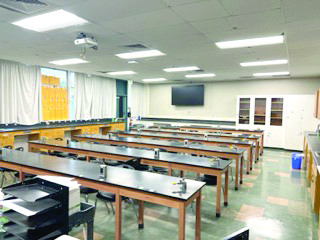 On the first day of the school year, TO forensics teacher Michael Flores watched his class experience science in a whole new way.
As his mostly shy students got used to their completely new science classroom, they wouldn't interact as much with their pods. But just days later, Flores watched those same students get comfortable with their peers. And having more freedom in the classroom, Flores said students are more comfortable communicating with their classmates. 
As the head of the TO science department, Flores was able to see the process of remodeling the science buildings from start to finish. 
The process began June 16, soon after the 2022-23 school year was complete. Construction was completed the day before this year began.
Story continues below advertisement
Planned for a year, it took only a few months to get the plan in action, with the main purpose, Flores said, "to make the classrooms a little more flexible and allow students to work collaboratively."
Previously, the old tables filled the science classes in rows, not allowing the teachers to interact with students in the middle. The new science tables now allow teachers to check and help any students in need. They specifically help with students helping each other and being able to interact with one another while doing different activities such as labs.
Making it easier on the students and the teachers, Flores said, is "allowing me to walk around, and allows the students to drive their own instruction." 
It's not just the teachers who are happy about the new layout.
"It's a nice fresh start, but at the same time it's something to get used to," senior Melissa Navarrete said.
Having been in the old science building and now experiencing the changes, she is able to observe and interact with the students adjusting. Not having had all of these new televisions, charging stations and lab tables available at all times, students and teachers appreciate it making everyone's lives easier.
"I think it's preferred this way," Navarrete said. "It's a whole new learning experience for them to learn [in] a different way, and it could have a bigger impact on the kids learning to make it more educational." 
For Riley Pink, one of those students Flores observed on the first day of school just getting used to it, she's become more close with her classmates .
"I met so many people that I thought I'd never be friends with," Pink said. With everyone feeling more comfortable with the seating arrangements "When we get to work in table groups, everyone's personality comes out 100 percent."