CVUSD Approves New Timeline for Returning to Campus
The CVUSD Board of Education voted in a 4-1 decision Tuesday night to amend the timeline for returning to school. High schools will return Jan. 19, middle schools will return Nov. 16, grades 3-5 will return Nov. 12 and TK-2 will return Nov. 9.
Five hours into the meeting, board members voted to approve the timeline with Board Trustee Sandee Everett dissenting. Everett expressed her disapproval of the high school timeline, stating she'd rather see high school students back in school on Nov. 16, the same time as middle schoolers. 
During the meeting, Superintendent Mark McLaughlin showed what classrooms would be like, using a photo of a classroom at Westlake High School as an example.
"[Students] are not going to be able to socialize. They will not be able to collaborate. They will not be able to do group work … or move around the classroom," McLaughlin said.
McLaughlin explains how classroom settings and teaching will be different with COVID restrictions. He said kids can actually work together more in remote learning. pic.twitter.com/zI5Xuh58Na

— Dawn Megli (@ReporterDawn) October 21, 2020
Trustee Bill Gorback cites his three priorities in the decision to go back to school as follows: Physical health and safety of students and staff, academic integrity and continuity and the social and emotional wellness of students and staff.
"We have gotten many emails from students and teachers asking about how life will be back on campus," Gorback said. "The conclusion was that if students have to use technology devices, have to maintain social distances, have to wear masks just to work in isolated acrylic spaces in classrooms, it would almost be more frustrating than distance learning."
Also, Gorback expressed his approval of high schools starting with the new semester to ensure academic continuity. Due to the possibility of changes to the master schedule, causing schedule changes for some high school students, the option of returning in the middle of quarter two raised concerns. 
Trustee Cindy Goldberg emphasized the complexities of the decision. For her, when it came down to it, the difficulties in a faster return to campus outweighed the benefits. 
"I share in the community's disappointment that there was not a way to get our HS students back prior to January," Goldberg said. "The new timeline emerged as the option that is not only safe but presents the fewest problems for students' schedules and educational continuity." 
Trustee Betsy Connolly attributed her vote to the board's doubts about the added stress a faster timeline would be on the district and stakeholders. 
"Our reopening plan is sound," Connolly said. "But the proposed timeline left board members with doubts regarding the added burden we were placing on teachers, our readiness to put the plan into action and our ability to focus on excellent instruction while reconfiguring high school classes."
Connolly wants to explore ways to get high school students on campus for learning enrichment opportunities before the end of the semester to bring students out of isolation. 
Everett expressed her objection to the majority opinion of the board.
"The board members that chose not to allow high schoolers back on campus in November did not prioritize the safety, well-being and educational needs of many high school students that really need to be back," Everett said. "Instead, these board members seemed more interested in pleasing the 77 union members that wrote to us asking us not to open the schools (most of whom were high school teachers). These majority board members could have required district office administrators to do the necessary hard work to adjust the master schedule and let the high school students choose to return to campus, but they did not. Master schedule adjustments are no excuse not to put the needs of our students first."
Watch the full recording of the meeting here.
See the approved timeline below: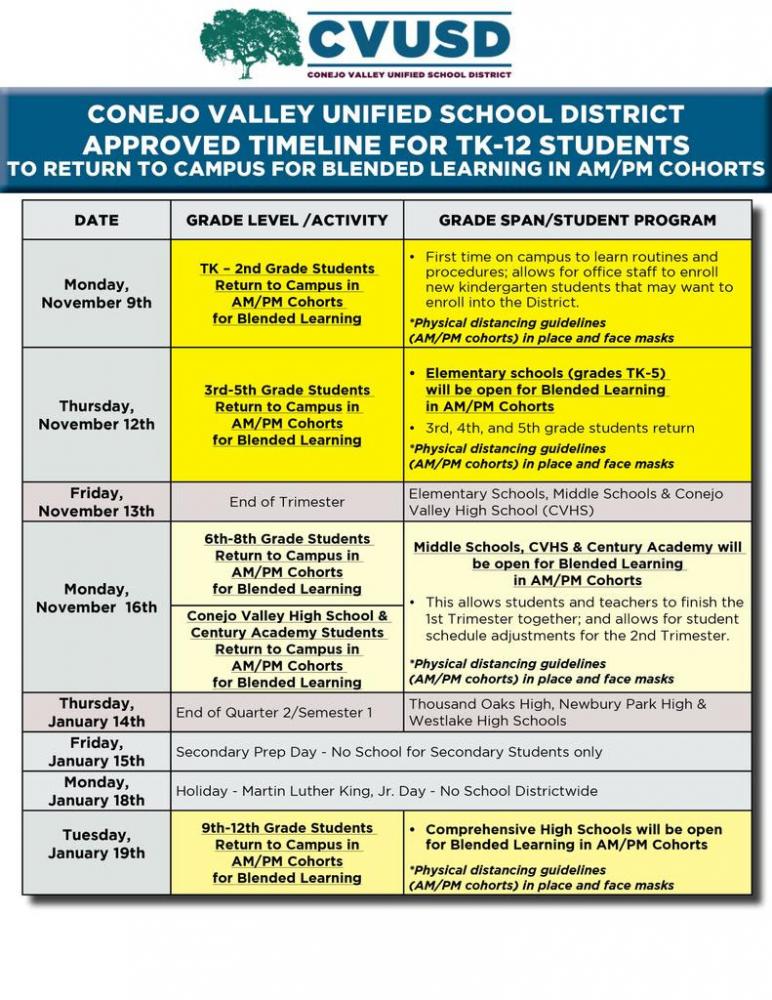 The Lancer is waiting on comments from other board trustees and Assistant Superintendent Luis Lichtl which will be added to this story as soon as they are received. Updated Oct. 23 at 8:05 a.m.