TIME FOR A COMEBACK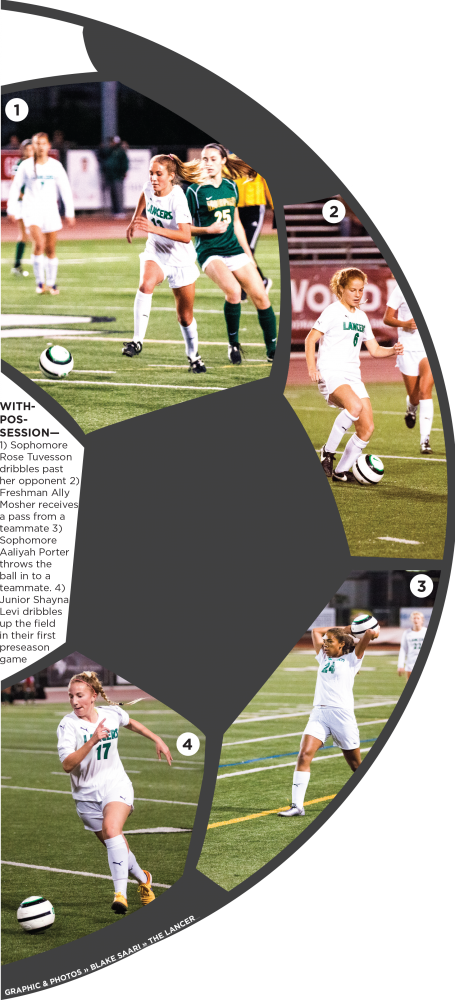 Coming off of a rocky season last year, Girls soccer looks to have retained enough talent and maturity to make some noise this winter.
With an overall record of 5–13–1 and winning two out of ten league matches last season, it wouldn't seem too far-fetched to count out the Lancers this year, but that's certainly far from the case with this group of girls.
Losing only a handful of seniors from last year, and having a majority of their starting lineup return, the players and coaches believe they have something special this year. Their much needed confidence is growing by the day.
This year's squad is led by returning captains, Haley Merrill and Devyn Daniels, who are both seniors and four-year varsity defenders.
"Our goal for this year is definitely to show other schools that we are not a team to give up. I'd say our coaching staff has a lot of confidence in us to make it to playoffs this year, so we just need to stay focused," Merrill said.
Junior midfielder, Rachel Miller, who is expected to be a major contributor for the Lancers this season, added the coaching staff really believes in the team this year, and sees opportunities for them that haven't presented themselves in years.
"Our coaches have been saying that this is our big year and one of the best chances we've had in a long time to seal a spot in the playoffs" Miller said.
Coaches have even been implementing a change in tactics to better suit the players and provide a more controlling approach to each match.
"They're coaching us to work on our possession of the ball. They want us to work on keeping the ball and being patient rather than trying to go forward all the time," Miller said. "They've also mentioned that this year, we are going to be even more disciplined than in previous years because this is our big year to make playoffs,"
With many youthful teams in Marmonte finishing with winning records last year, including an undefeated season from Westlake, the Lancers also must look to utilize their own younger players, and get them in the winning mindset in order to be successful.
"Keeping them included and feeling right at home from the moment they step on the field will hopefully make [the underclassmen] feel comfortable and spark some excitement for the season," Daniels said.
Although the team's strong twenty player roster contains ten seniors, the Lancers have a large amount of youth with four juniors, four sophomores, and two freshmen, some of which, are set to have big impact for them this year.
"The two freshman from last year, Aaliyah Porter and Rose Tuvesson, are definitely improved and are gonna be two of the strongest players on the team this year,"  Merrill said.
Senior forward, Reese Newman, is also expected to be a big goal scoring threat for the Lancers this season, along with Miller being a force in the midfield.
"Our back line and goalie are pretty strong. We may move people around up top to see if that benefits us," Daniels said.
With a combination of experienced seniors, strong young players, and an eager coaching staff, the team is definitely capable of turning heads this season.