Two Teams, One Goal
Sun beating down. Legs burning. Time ticking.
This is a typical afternoon for a member of the Thousand Oaks High School cross country team. 
Last year, varsity boys made it to the CIF State Cross Country Championships for the first time in a decade. This year, the girls team aims to make it as well, and the boys hope to place first and advance to the national championships. 
"The girls would love to join the boys at states," assistant coach Jordan Daigneault said. "We're having a little bit more of a growth process there." 
 Competing at a higher level than ever before requires dedication and a well-structured program.
"The core tenants of our program are three things. One that we develop a great work ethic. Two that we're a selfless team… Then finally, that we believe," head coach Andy Thompson said. "If you don't have the belief, then the work isn't going to matter. If you don't run for each other, then the belief in yourself and the hard work doesn't matter either."
The work ethic development begins before school even starts. During the first week of summer training, the team does bonding activities and introductions, so everyone is familiar with one another going into the school year. 
Some of the team goes to Big Bear for a week during the summer for altitude training. There are time trials leading up to the trip that determine which runners will be going since the training is more advanced. In addition to training, there is emphasis on goal setting and getting clear on what each runner wants to accomplish for the season. 
"We can look back to what we said in big bear, back to what we did in big bear and… reflect back on our goals to remind us where we started and where we want to go," senior Tallula Auman said. 
Despite having freshman, junior varsity and varsity teams, cross country practices as one unit. The team meets to warm up together, and then they divide into specific training groups to complete their run. Their training week consists of three difficult days—long runs or races—with other days being of medium difficulty or recovery. 
"They're running at an intensity we've never done, so their practice is really great," Daigneault said. 
Coaches focus on building up intensity throughout the season so their athletes aren't training too hard too soon. Equally important to training is ensuring an inclusive and supportive atmosphere.
"It's been years of work, years of tweaking things and getting the right kids in leadership positions." Daigneault said.
This year, cross country has three boys captains and four girls captains: Seniors Tallula Auman, Ethan Darden, Jay Lesny, Michael Mireles and juniors Kiara Benioff, Katie Daniels and Mackenzie Kelley. 
Captains regularly check in with their teammates to make sure they are getting enough sleep, drinking enough water and maintaining healthy eating habits. 
"I think personally… my biggest contribution is keeping everyone motivated enough so that they're dedicated," Benioff said. "They're making like the small sacrifices every day that will eventually add up to making it to states."
Speaking of small sacrifices, at meets the cross country team has a no homework policy, so everyone is cheering each other on. 
"[Our coaches] like to say that we paint the course green," Auman said. "We find the places where there aren't a lot of people, where people need a lot of encouragement… because that's really what's one of the most important things on the team is encouraging other people and being there for your teammates."
Regardless of if they are winning race or finishing last, coaches and athletes make a point to celebrate their runners for all of their accomplishments. 
"The selflessness and the belief, not one of those things says run fast, but all of it says … learn some great qualities you can use for the rest of your life." Thompson said. 
The typical race at a cross country meet is two miles, three miles or five kilometers. In order to run at a fast pace for that long, the team runs up to 13 miles for training. 
"Running is kind of crazy, especially how much we do." Thompson said.
While many would consider cross country to be an individual sport, TOHS runners would beg to differ.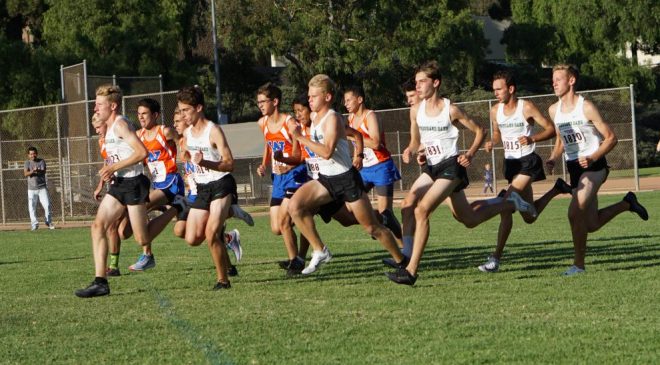 "You can easily say it's an individual cause you're the only one… that can put one foot in front of the other, but… we train as a team every single day. There's no individual training, and everything is centered around pushing and pulling to make each other better." Thompson said.
The team puts emphasis on not just running for a time or to win but running for each other. 
"Why would we put ourselves through running hours on end … unless we have a big purpose? And that purpose is supporting your teammates and accomplishing your goals together." Benioff said.
Coaches are focusing on ensuring every runner is in the right mindset, particularly during competition because three miles at a pace that is faster than the average person's best mile not only requires physical strength, but mental strength as well. 
"Suffering on the course [is] when you need the mental strength to keep going and if you don't have that mental strength, you're just not going to succeed." Benioff said.
On Thursday Nov. 7 is Marmonte League Finals at Peppertree Park in Newbury Park, Calf. Between the training they have put in and the way they work together as a team, TOHS cross country hopes League Finals will be just another stop on their way to states. 
"We've never had such high goals before," Benioff said. "It takes pretty much everything to reach them."
All Photos » Daniel Fitzgerald » With Permission