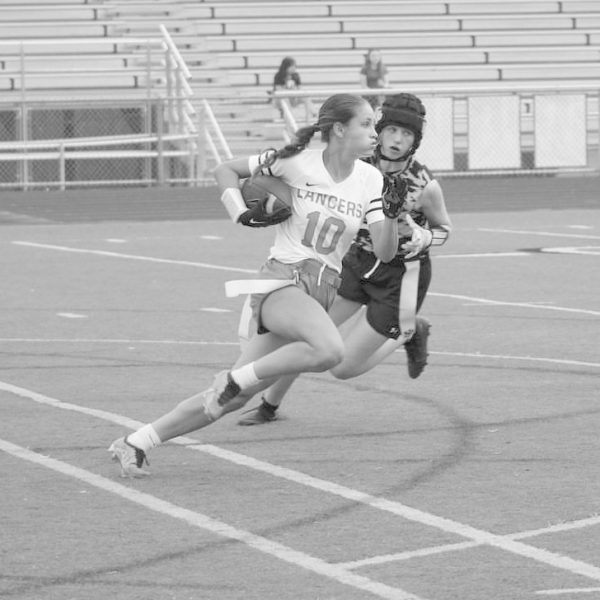 Former Thousand Oaks High School varsity head football coach Mike Leibin took on a new yet somewhat familiar challenge: TO girls flag football head coach.
The sport debuted at the school this season after being introduced around Southern California over the last couple years.
"I thought it would be a totally new adventure coaching a bunch of athletes, especially girls who have no background with the sport," Leibin said. "Maybe some of them have played catch with their brother in the backyard, but for the most part, [they] haven't really played football. I looked forward to the challenge."
Despite the girls' inexperience, by the end of tryouts, he knew there was a good selection of girls who were strong in different categories. Leibin highlighted that the girls have improved throughout the year, and the Lancers started the season 4-7 and 3-2 in the Marmonte League.
No matter the outcome of every game, they would come together and create ways to execute their plays and make more plans to come to victory.
"The most important thing would be the progress that the girls have shown throughout the year," Leibin said. "We get better and better on both sides of the ball and that's been a rewarding experience."
The players haven't just gained strength on the field but have also forged a close bond.
"During games, we would bond together, and [after], celebrate together when we [won], and when we [lost], we would come together and have to figure out what we did wrong," sophomore Malia Turley said.
Turley was a key player for the Lancers this year, and when she was sidelined with an injury, it had an impact on the team.
"It really hurt us when Malia Turly broke her toe," Leibin said.
Despite this setback, the team executed a successful first year.
"Just everybody learning this new sport together and going through the experience together [was great], because we all kinda didn't know what we were doing when we first started and now we are just having fun together," sophomore Morgan Humphrey said.
With such a good start to the new sport at TO, fans look forward to more fruitful seasons.
Story continues below advertisement