The Second Week of Impeachment Hearings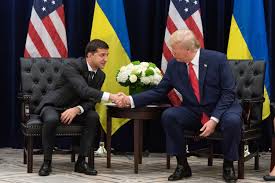 This week, the House Intelligence Committee continues to hold impeachment hearings investigating claims of President Trump interfering in U.S. foreign policy by withdrawing help from Ukraine in exchange for their investigation of Biden.
On Tuesday, November 19, 2019, four new witnesses testified before the House Intelligence Committee: Jennifer Williams, aide to Vice President Mike Pence, Lt. Col. Alexander Vindman, Ukraine expert at the National Security Council, Kurt Volker, former special envoy to Ukraine, and Tim Morrison, former National Security Council staffer. These witnesses all work in the White House and have a firsthand account of important events.
Williams, on Tuesday, in her opening statement, discussed the following: the hold on security assistance to Ukraine; Trump's call to Ukranian President Zelensky on July 25th, which she viewed as "unusual" because it seemed to be about a domestic political matter; and Vice President Pence's meeting with President Zelensky, where Pence told Zelensky that Ukraine had the United State's unwavering support.
Vindman, in his opening statement, discussed his attendance of President Zelensky's inauguration, after which Trump had signed a congratulatory letter and extended an invitation to the White House.
Vindman also testified that Ambassador Sondland, in a meeting with Ukraine's National Security Advisor, Oleksandr Danylyuk, and National Security Advisor Bolton, had discussed requirements that Ukraine "deliver specific investigations" before a meeting between Trump and Zelensky could be organized. According to Vindman, Ambassador Sondland had emphasized the need for Ukraine's investigations into Biden during a debriefing.
Volker changed some facts from his closed door testimony in his opening statement on Tuesday, claiming he was unaware that the hold on assistance to Ukraine was due to the investigations into Biden. Volker also claimed that in the meeting between Sondland, himself, and Bolton, Sondland only briefly mentioned withholding assistance to Ukraine before the meeting had ended.
According to Morrison, the call between Trump and Zelensky was worrying, but nothing was illegal.
At the end of Tuesday's hearings, it was concluded from Morrison and Volker's testimonies that President Trump did not commit an impeachable crime.
Wednesday, November 20, 2019 saw the testimonies of Ambassador Gordon Sondland, Defense Department official Laura Cooper and State Department official David Hale.
Sondland, in his opening statement, claimed that he and other officials were forced to work with Rudy Giuliani by Trump. Sondland claimed the pressure to investigate Biden by Giuliani was a quid pro quo for a White House visit. Trump dismissed Sondland, claiming he was not close to Sondland.
On Thursday, November 21, the House Intelligence Committee heard the testimony of Fiona Hill, presidential advisor, and David Holmes, political counselor for the U.S. Embassy.
All scheduled witnesses have testified, but it is possible that the House Intelligence Committee will call more witnesses to testify. Once the House Intelligence Committee hearings have come to a conclusion, they will write a report to be sent to the House Judiciary Committee, and the impeachment process will continue from there.