"My Squirrel Days" by Ellie Kemper Book Review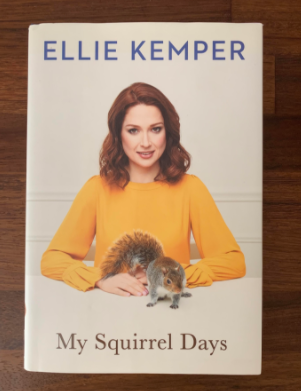 "My Squirrel Days" by Ellie Kemper is a 240-page autobiography on Ellie Kemper and her life. Starting as a girl from the Midwest who directed Christmas plays until her lack of sleep and the excessive amount of Swiss Miss she'd been drinking caught up with her, to a celebrity known for shows such as "Unbreakable Kimmy Schmidt" and "The Office".
"Ellie is a hilarious and talented writer…" Mindy Kaling wrote.
Published in 2018, "My Squirrel Days" takes you on a comedic journey of what goes on in this actress's life. Kemper describes herself as an improviser, a businesswoman, and a sports monster. While the book doesn't follow a chronological order, her descriptive writing allows you to go from her days in elementary school to the time she knocked over author Doris Kearns Goodwin. Ellie Kemper's wonderful writing and hilarious anecdotes allow you to look inside her life and find out what makes her who she is.
"… My Squirrel Days is a freewheeling tour of Ellie's life- from growing up in suburban St. Louis with a vivid imagination…to moving to Los Angeles…" Kemper said.
"My Squirrel Days" is a book for anyone who is looking for their place in this world, or who is wondering how they're going to write a McDonald's ad while being a college field hockey benchwarmer. I recommend this book to people who enjoy comedic books or are fans of Kemper's television shows.
"My Squirrel Days" is a book that will make you laugh, cringe, and smile in the span of one chapter. Ellie Kemper is a wonderful writer and a hilarious actress. I give this book 5 stars.